Watch the video below to learn more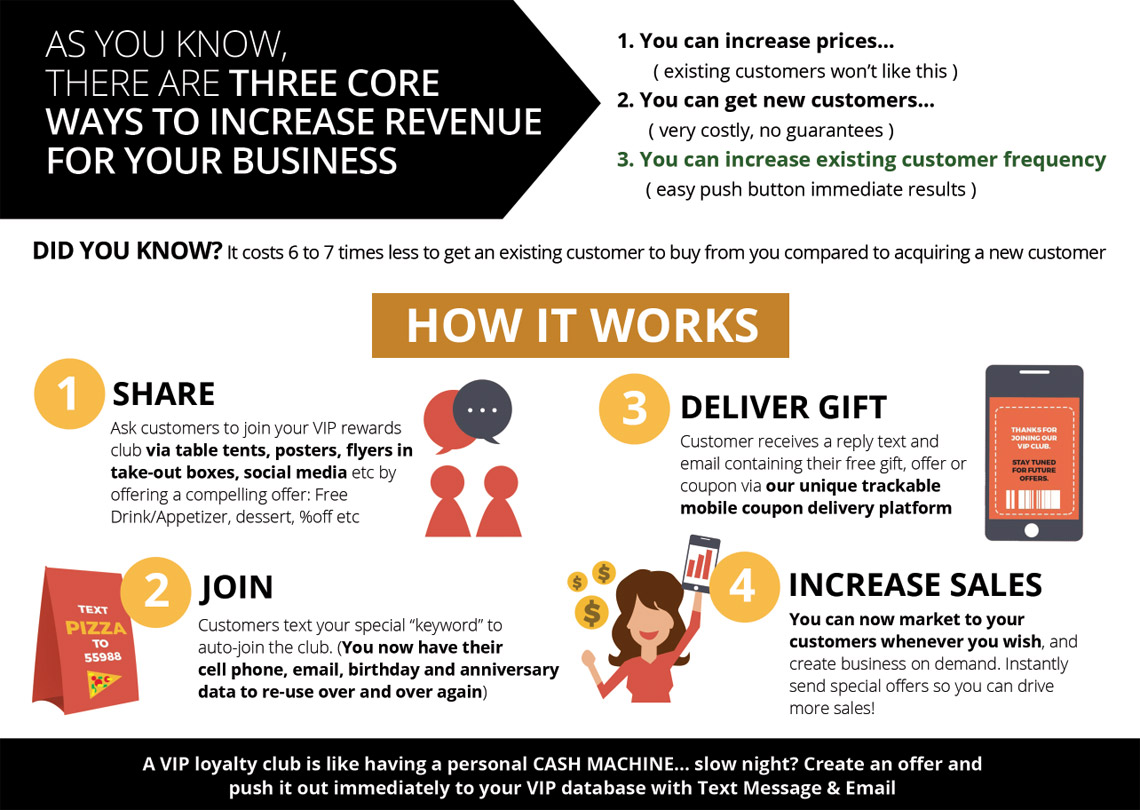 EFFECTIVE MARKETING
Send your customers timely promotions proven to get immediate response and DRIVE REPEAT BUSINESS. We reach them via email and text messaging combined! Text message has over 98% open rate within three minutes of receipt. This means your promotions are guaranteed to get seen!
IMMEDIATE
No need to wait for print. Announce upcoming events, new hours, specials or menu changes immediately.
GUARANTEED SALES INCREASE
It costs six to seven times more to acquire a new customer than to keep an existing one. We ensure your regular customers come in more often, and spend more money with you, so you can increase sales… no prices!
CELEBRATION MARKETING
Give your customers a reason to celebrate their special occasions at your restaurant, not elsewhere. We build custom birthday and anniversary clubs for your restaurant, so you can boost revenue.
TRACKABLE
We are able to know exactly how much growth your VIP club is making you via our trackable coupon system. We can track based on coupon redemption's as well as transaction amounts. 
ONE DASHBOARD
Create marketing campaigns and automations from one dashboard. We combine the best marketing modalities: Send MMS, SMS, & Email messages all at once! 
PERSONALIZED MARKETING
Deploy personalized marketing to ramp up customer response and results! Add merge tags such as: phone,name, expiration date, trackable coupons, email, birthday, and anniversary.
ONE-CLICK MANAGEMENT
One-click Broadcast send: Quickly and easily send MMS, SMS, & Email messages all at once!
TRACKABLE OFFERS
Build custom coupons and offers with complete trackability, so you can see proven results.
MULTIPLE CAPTURE MECHANISMS
Build a customer database using multiple formats: Via web form, via text in a keyword, via text patterns, website embed, or QR code!
SPECIAL OCCASION CAMPAIGNS
Capture important customer dates such as birthdays and anniversary and easily send automated trackable offers. (This is a highly profitable campaign in itself!)
BROADCASTER
Schedule and send immediate one-time broadcasts to your entire database.
EXPIRING MOBILE COUPONS
Create mobile coupons that actually expire or coupons that require a PIN code that your staff can use to unlock and track all offers.
Your customer list is your biggest asset!...

It is time to gain full control of your marketing wit our turnkey solution designed to help you make more money from your existing customers!